Indigenous Wellness at Lumara
First Nations' throughout Canada have long been disproportionately and deeply impacted by grief and loss in their communities. The pandemic further compounded this situation: creating deep wells of social isolation, heightened anxiety, stress and painful separation from cultural traditions, family gatherings and rituals that are an integral part of First Nations healing, and wellness practices. The recent uncovering of the remains of children near former residential school sites across the country has further heightened trauma, while also igniting calls for healing.
The children revealed themselves to us for a reason, and we must find a way to heal – the time is now.
While we have always served Indigenous communities at Lumara, we felt that a true commitment to Reconciliation was calling us to do more. We reached out to Jo-Anne Gottfriedson of the Tk'emlúps te Secwépemc (Kamloops) to join Lumara in 2020, and soon after she joined the our team as a Resident Elder and Cultural Liaison.
Her teachings affirmed that many Indigenous people don't feel safe sending their children to camps and are not comfortable attending overnight programs. A long history of abuse and trauma has resulted in a low level of trust in institutions, and leaving home to receive treatment or care can be especially triggering. So we decided to take a different approach.
In collaboration with the First Nations Health Authority and Indigenous Elders, Leaders, Artists, and Healers across the country, Jo-Anne and Director of Operations, Joshua Dahling, have developed a wide-reaching, culturally-safe program that combines traditional Indigenous healing rituals and practices with Lumara's long-held belief in the power of a nurturing community.  
Lumara's Indigenous Wellness Program has been tremendously successful at bringing people together – even in the face of geographical isolation and social distancing restrictions. Through Elder meetings, virtual workshops, individual support, land-based activities, and community gatherings that utilize the power of  art and music, Lumara has been by the side of thousands of Indigenous people on their healing journeys. 
Lumara's Indigenous Wellness program was developed in 2020 in response to an increasing demand for our services from Indigenous communities across Canada. Our Indigenous programs and educational initiatives are created and led by our Team in collaboration with our Indigenous Advisory Circle, which consists of Indigenous Elders, Healers, and Educators.
In our approach, we believe in reciprocity; meaning we are all in need of help and we are all capable of helping others. Together, we learn, we grow, we heal.  Lumara recognizes the strength within people, and aims to empower Indigenous communities so that they can build capacity to deliver supports and services independently on their own.
Lumara's Indigenous Wellness program supports self-identified Indigenous (First Nations, Inuit, and Metis) individuals and families by providing holistic culture-based programming that is responsive to a multitude of complex needs. Integrated throughout this program and our organization are regular educational opportunities and healing rituals for those who work to support Indigenous communities impacted by serious illness, grief and bereavement.
Some of our services include; grief counselling, grief support groups, Elder consultations and support, expressive arts therapies, mental health & wellness conferences, land-based healing, retreats, and customized workshops. 
Indigenous Advisory Circle
At the very foundation of Lumara's values and practices are the teachings offered by Indigenous Elders & Healers from across the country. As part of our ongoing commitment to excellence, we continue to collaborate with Indigenous Educators and Organizations to improve cultural awareness and safety within our community and throughout all our programs and services. Since starting our Indigenous Wellness Programming, we have served thousands of individuals and families from nearly 300 Nation's across the country in addition to 50 communities in Northern British Columbia, where we supported over 5000 people though our partnership with the First Nations Health Authority 2020-2022.
Vernon Williams
Elder in Residence
Sgaalaanglaay, Gaamdaamaay (Vernon Williams Jr.) belongs to Kuunlaanaas Raven Grizzly Bear of Yakin Point Haida Gwaii, Vernon is a Haida Nishga.
His work involves traditional teachings that have been passed down from wonderful mentors. Vernon offers brushings with feather or cedar fan for water cleansing, he leads fire ceremonies and is an artist of drum making, flutes, rattles and protection necklaces.
Vernon has participated in Sundance in Minestikwan and Sweet Grass, Saskatchewan. He is a brother in Ceremony to many Mayan who are now family. He offers songs with drum, rattle and flutes to provide peace and wellness when needed.
Shirley David
Therapist | Cultural Educator
Shirley David (MISW), originally from the Gitxsan/Witset First Nation, she grew up with the Secwepemc people.
Shirley graduated with Master of Indigenous Social Work (MISW) and Bachelor of Indigenous Social Work (BISW). She has Addictions Counselor Certificate; Aboriginal Life Skills Facilitator Certificate; Aboriginal Trauma Certificate. She also completed courses/programs from the Justice Institute of British Columbia.
Shirley has over 40 years of professional and Traditional /cultural teachings not only came from the western teachings, but also from Spiritual and Cultural Teachers and Elders.
Shirley is qualified and experienced in both Traditional Indigenous based teachings and contemporary western base teachings.
Shirley is the RHSW /Therapist with Indian Residential School Survivors Society for the past 10 years.
Jo-Anne Gottfriedson
Elder in Residence | Culture Support Worker
"Weytk ren skwest es Kiye'y7e Qwisp Nu'xwenxw ell Jo-Anne Gottfriedson Tk'emlu'psemc te Secwepemc. I am extremely proud to be Tk'emlu'psemc. I am a proud mother of two daughters, and a grandmother of five grandsons and a beautiful granddaughter. I also have many adopted children and grandchildren from various nations across the country. I am married to Reverend James Isbister from the Cree Nation, Ahtahakakoop Sandy Lake, Saskatchewan."
Jo-Anne was educated at Simon Fraser University. She is a Certified Provincial Adult Instructor and a member in good standing with the BC College of Teachers. She instructed the Secwepemc language and culture at the Sk'elep School of Excellence for five years, was a faculty member at the Nicola Valley Technology Institute in Merritt, BC and an Instructor for Aboriginal Tourism BC. Most recently she worked with the First Nations Health Authority as part of a team who developed and taught the Indigenous End-Of-Life Guide Program, offered in partnership with the Continuing Education Department at Douglas College. For the past 11 years she was also the Executive Chair of the Day Scholar Certified Class Action for Tk'emlúps te Secwepemc, Sechelt First Nation and James Cree.
Jo-Anne credits her traditional education to the persistence and commitment of her parents, grandparents and various other Elders and teachers. Her accomplishments are testimony to her belief that formal education compliments traditional education, and that the traditions, beliefs, teaching and language of her ancestors is just as, or more important than any other education she has received. "My commitment and respect for my culture and traditions is of the utmost importance in all aspects of my life … I not only teach it, but live it with my family, community and nation."
Joe Keesickquayash
Alumni | Ceremonialist
Joe Keesickquayash, is of Ojibway and Cree background from Mishkeegogamang Ontario, and Red Sucker Lake, Manitoba. He is a father of five and has one grandchild. Joe graduated from the University of Toronto with a degree in Indigenous Studies and History.
In 2017, Joe and his family experienced the loss of their three year old son, who was born with a rare genetic condition During his son's odyssey, Joe and his family remained hopeful that a diagnosis would be found to bring understanding to their son's medical journey, and more so, to help support their grief journey. 
Although the path to find a diagnosis was challenging as a father, Joe hopes that by sharing his grief journey, and his traditional approaches to understanding grief, he can help others who are experiencing grief and loss.
Susan Dowan
Alumni | Educator
Susan Dowan is a mother of five and grandmother of one, and is of Cree background from Manitoba. She successfully graduated with a degree in Aboriginal Studies from the University of Toronto in 2004, and has worked with Indigenous Women and children for fifteen years.
Currently, Susan is an Indigenous Community Recruiter for Circles For Reconciliation Toronto region, a project whose aim is to establish trusting, meaningful relationships between Indigenous and non-Indigenous peoples as part of the 94 Calls to Action from the Truth and Reconciliation Commission.
Susan is also the mother of a son born with a rare genetic condition known as PRUNE1-associated disorder. Her son was recorded as 5th case worldwide. During his diagnostic odyssey, her son experienced numerous hospital admissions at the Hospital for Sick Children in Toronto. He remained undiagnosed until a re-analysis of his Whole Exome Sequencing data revealed his diagnosis. Susan and her family effectively advocated on behalf of her son to find his diagnosis. Her goals were to create understanding of her son's health struggles and medical journey, to open doors to research, and to positively impact future generations of children with undiagnosed rare disorders.
Thomas Terry
Language | Culture Teacher
Hello everyone I am Emhalhtsa7 , other wise known as Thomas Terry. I was born and raised St'at'imc and am proud of it. I am culturally strong due to my upbringing within our culture, hearing the language and songs throughout my life. I have been a Language/Culture Teacher for 6 years but have been doing it all my life. Am a hand drummer, a Bear dancer, still learning St'at'imc. Clean and sober for 24 years.
Indigenous Wellness Logos
We are proud to have worked hand-in-hand with Animikii – an Indigenous Technology company that is values-driven – to develop a customized set of logos for our Indigenous Wellness Program. The following descriptions outline the meaning of these logos.
This logo is created using west coast style form line artwork. Each quadrant is made up of a human figure wrapped in the embrace of love, represented by the heart. The stylized eye and circle represent us, the person at the centre.
The heart illustration has an Eagle feather motif. In many Indigenous cultures, the Eagle represents the ideology of Love as it's told through the Seven Grandfather Teachings.
Knowing love is to know peace.
Our love must be unconditional. When people are weak, that is when they need love the most. Love is a strong affection for another. This can form between friends, family, and community. Love is an attachment-based upon devotion, admiration, tenderness, and kindness for all things around us. For one to love and accept themselves is to live at peace with the Creator and in harmony with all of creation. Love knows no bounds. We accept love sincerely and give it freely.
The human figure and heart illustration are duplicated 4 times in a circle. This represents the circle of life.
It reminds us that everything comes in fours–the 4 seasons, the 4 stages of life, and the 4 directions.
One-colour (black) Knock-out (white)
The circle describes various aspects of life; both seen and unseen. It provides us with teachings about how to live life in a good way. The 4 directions remind us of the need for balance in our lives and that we must work on a daily basis to strive for that balance.
The colours of red and purple balance harmoniously. Red has a range of symbolic meanings, including life, health, vigour, and love. The common thread is that these all require passion, and the "life-force" that drives passion, blood, is red. Purple combines the calm stability of blue and the energy of red. The colour purple is often associated with nobility and ambition. It can also represent creativity, wisdom, devotion, and peace.
The colour purple has a variety of effects on the mind and body, including uplifting spirits, calming the mind and nerves, enhancing the sacred and creating feelings of spirituality, and nurturing tendencies and sensitivity and encouraging imagination and creativity.
The word mark is set in a font that is strong, bold, and yet has a soft aesthetic that evokes feelings of caring and love.
Much like the option entitled LOVE PEACE, & PASSION, we used the west coast style form line artwork. It infers the same meaning except for the 4 directions. The heart and human form remain, this allows for us to focus more on the heart and caring imagery and the feelings that it invokes. The colour palette is the same along with the rationale. The font is set in all caps and has rounded edges to soften the look. This allows for the word mark to stand out with a strong statement of stability and caring.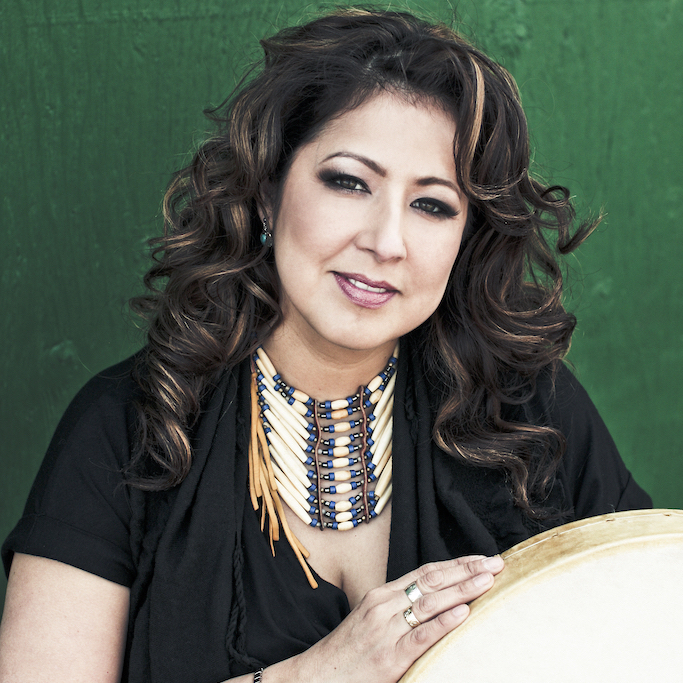 Sherryl Sewepagaham
Music Therapist | Educator
Sherryl Sewepagaham is Cree-Dene from the Little Red River Cree Nation and is an experienced elementary music specialist, music therapist, performer and choral composer. In her work as a music educator and composer Sherryl created the secondary teacher resource, Kanata: Contemporary Indigenous Artists and their Music and composed the theme song "Music Alive" and three Indigenous Arts Teacher Guides for the National Arts Centre's Music Alive Program.
For the past three years, Sherryl has been working as an Indigenous music therapist with patients at the Royal Alexandra Hospital under the Indigenous Health Hub. She is also a founder of the Juno-nominated Indigenous women's trio Asani and released her own solo album Splashing the Water Loudly in 2014. She is now a Masters of Education student with a focus on reviving traditional Cree songs and lullabies for young children and families to support healing from grief through trauma, cultural and language loss, and the restoration of maternal bonding.
Shelley Joseph
Cultural Educator
Shelley Joseph, Hekwa'gila'ogwa, has a lifetime of cultural exposure. Being immersed in the lessons and traditional ways of being, have shaped who she is.
Shelley has been on her healing journey for more than 31 years and has combined her lived experience with education in the spiritual, physical, mental, and emotional well-being of people, families, and communities. She believes that awareness and action plans for change can sway the scope of disparity in our societies.
She prides herself in holding safe space for people to learn, heal, and grow. She has advocated for Cultural Safety and Kindness her whole life and is passionate about nurturing relationships and true Reconciliation. Following the teachings from a lifetime of learning from elders and cultural leaders, Shelley is dedicated to learning and leading by example through her values.
Madelaine McCallum
Dancer | Cultural Educator
Madelaine McCallum is a gifted dancer, motivational speaker, facilitator, and MC — a true, multi-faceted creative. She is from Ile a la Crosse, Saskatchewan and brings passion with a gentle yet powerful presence to the stage whether she is there to share one of her inspiring Speaks or she has been asked to dance, or MC.
Madelaine's experience as an MC and event host is sure to make your event or workshop a hit! She has a passion for sharing her knowledge of dance and culture and doesn't shy away from sharing her story of survival, knowing that dance has been an outlet and saviour throughout her life.
Though she is often known immediately for her Métis dance (she's been jigging since she could walk!), she loves all forms including Pow Wow, contemporary, hip hop, and movement from the soul. She has created traditional and fitness-based dance workshops including Pow Wow Impact, Jig Fit, Pow Wow Zumba, and traditional Pow Wow and Jigging workshops.
Corinna Stevenson
Ceremonialist | Educator
For over 25 years, Corinna has taught and guided hundreds of people through personal transformation. First as a high school teacher and then as a therapeutic wilderness guide and rites of passage ceremonialist. An exceptionally talented guide, writer, and teacher, Corinna brings much heart, wisdom, and integrity to her work. Her immense respect for the natural world and her well-founded belief in the unlimited potential of humans are themes that characterize all her efforts.
As a Métis woman, Corinna weaves traditional cultural teachings and Earth-based forms into all her practices. She holds a Bachelor's in education from McGill University and a Master's of Arts in transpersonal psychology with a concentration in ecopsychology from Naropa University. She has also completed master's level clinical counselling courses in counselling theory, family systems therapy, group therapy, and research methods, and has trained with the Vancouver School of Narrative Therapy. Corinna is the recipient of a Prime Minister's Award for Teaching Excellence (Certificate of Achievement, 2003). She is a level 3 Reiki Usui practitioner and has trained in shamanic drum journeying with Sandra Ingerman. She has published articles on rites of passage and mental health in the BC Schools Counsellors Association and BC Métis Resilient Roots magazines. She is currently putting the finishing touches on her book entitled: Ravenwood; The Healing Forest: Indigenous Wisdom, Life Threatening Illness, and Awakening the Heart.
Corinna lives with her husband and son on 40 acres of forest called Ravenwood, on North Vancouver Island, BC.
Artists | Cultural Educators
Carol Powder and her grandson, Noah Green have taken the internet by storm and gained international recognition for thier performances with the group, Chubby Cree. The duo's contribution to our Indigenous Wellness program has inspired youth across Turtle Island.
Past & Upcoming Indigenous Wellness Events